Craft Rack storage - Lets get you Organised ! STOP Rummaging and GET Crafting!
Please Note: This website is no longer in use. It is kept as an information page for previous customers.
To order our new range of products please visit
Ready to Get Organised ?

Are you still wasting time rummaging through your craft area trying to find things when you should be crafting ? Do you store your craft bits in boxes and drawers ? Pile items up on your desk ? Struggle making room on your craft table ?

Have you bought the same item twice because you couldn't find it ?

You need a Craft Storage Rack !


Solid ready built units - No Assembly required !
________________________________________________________________
________________________________________________________________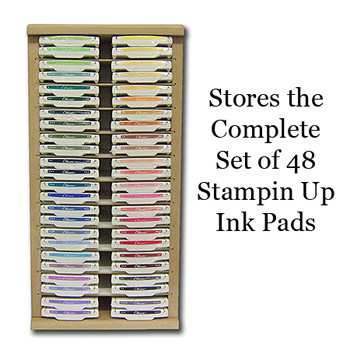 STAMPIN UP INK PAD STORAGE RACKS WHICH STORE
STAMPIN UP STAMP PADS
- NOW AVAILABLE


Visitors to our showroom will already know we make ink pad racks for larger sized ink pads such as Big & Juicy, Stampin Up and Kaleidacolour ink pads but neve had time to list them on here ....... so due to REQUEST we are now listing racks for larger sized ink pads starting from £19.99 ..... WHAT ARE YOU WAITING FOR!!

________________________________________________________________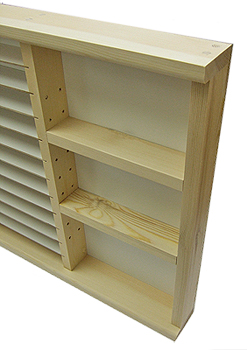 We are continually developing the Craft Racks and due to customer feedback and requests, as from 18th February 2010 all racks (excluding paper racks) will now feature flush sides as shown in the picture here, which will enable you to stack the units directly next to each other. Please click the picture on the left to see a larger photograph.
We need to re-photograph all the racks and will update all pictures for each style of rack as soon as possible.
Best Sellers This Month
________________________________________________________________
Our handmade wooden Craft storage racks are extremely versatile units - all our Craft racks can be mixed and matched to enable you to build the storage you need as you need it. All of our racks are designed to be Free standing or Wall mountable. Solid built units - No Assembly required !
Ink Pad Storage Racks: - not just for Ink Pads ! Each shelf is removable so you can store more than just ink pads. Keep all your stamping items in one place, ink pads, embossing powders, re-inkers. So whether you need to store 20 or 200 ink pads we have a storage unit for you!
Multi Storage Racks & Shelves: As the name say - these storage Craft racks are a great storage solution for those who have a mixture of crafting goodies. These racks feature different elements dependant on your craft. We have shelves with ribbon reels, ink racks with side shelving for those who love their glimmer mist and shimmer bottles - again all the shelves are adjustable.
Ribbon Racks: Now if like me you store your ribbons in boxes and end up with one huge knot ! then these are for you too ! Our Ribbon racks are available to suit the spool size you use the most often - just let us know and we'll fit as many reels as possible.
Paper Racks: Available for storage of A4 paper and card, Scrap book 12" x 12" rack now available !
Our Craft storage racks are fantastic items for getting you organised in your craft space. A choice of designs - so Versatile and very easy to adapt to your needs , each rack in the range co-ordinates so you can mix and match to build your perfect craft room set-up. Stand the racks side by side or stack them - whichever way you'll soon wonder how you managed without one!
Each Craft rack is individually built in our own workshops using only quality materials. The outer frames are made from Solid pine and all are hand sanded to a super fine finish which you can either leave in the bare wood or you can paint / stain or decorate it as you wish - why not paint and stamp it ? Backboards and shelves in the Ink Pad racks are in a white faced MDF which is wipeable. Outer shelves in the Multi Rack units are solid pine and also feature adjustable pegs so you can move them up or down to suit your own storage needs.
We know craft space is a premium concern so our craft storage racks are designed to be totally space saving to free up valuable craft table space - Ink pad storage racks are only a total depth of 8cm deep, Ribbon racks are only 12cm deep. Don't want a rack on your table - All of our racks are designed to be wall mountable - fixings are included.